… last year by a photographer ;)
I know, I know, that was blatant click bait. In my defence though, I think the only one who reads my blog regularly is my mother (thanks mom), so I had to take drastic action to lure you guys here ;)
And now that you are here, I thought I'd share something different with you. Last autumn, my beautiful and sweet friends, Kylie and Kerry, came to visit me here in Stockholm. Kerry is one of the U.K's top dog photographers. You can check out her incredible work here: https://www.furandfables.com/
Kerry suggested that she photograph me working on a portrait session and also get some shots of me with my gorgeous Tibetan Terrier, Riley, and a few shots of me, well, just doing my thang at home. She said that because I'm always behind the camera that I should experience what it's like for my clients for a change. So I reluctantly let her photograph me throughout the day. Thankfully she was very patient with me with, as I'm no natural in front of the camera.
Thank you for these memories, Kerry. You are one talented and fabulous lady xoxo
Here I am photographing my beautiful model, Kylie. This time I had security with me guarding my camera bag - see Tibetan Terrier keeping watch behind me. You can never be too careful.
We move the shoot into the woods as the sun was making my mascara run (waterproof my foot) and my eyes burn. And you thought your job was stressful. Note, leaky mascara has been hastily cleaned up.
The combined weight of this camera body and lens is about the equivalent of a four month old alpaca. The sweat patches must have been photoshopped out.
I feel no pain, I feel no pain. Mind over matter all the way.
"Oh my God, Sandra, you're so talented. That's, like, the best photo of me I've ever seen."
"No, seriously, you are the bomb, Sandra. I look amazeballs."
Then it was mine and Riley's turn to shine. Now, I'm no runner. If a balaclava-wearing, chainsaw-wielding man started running after me I'd probably curl up in the foetal position and wait to die. Kerry, however, somehow got me to run over and back this field with my dog until she got the shot she wanted. I was doing more panting than Riley.
And then he broke free and decided he wanted to be the center of attention.
But I was having none of it and eventually caught up with him. He can run, but he can't hide.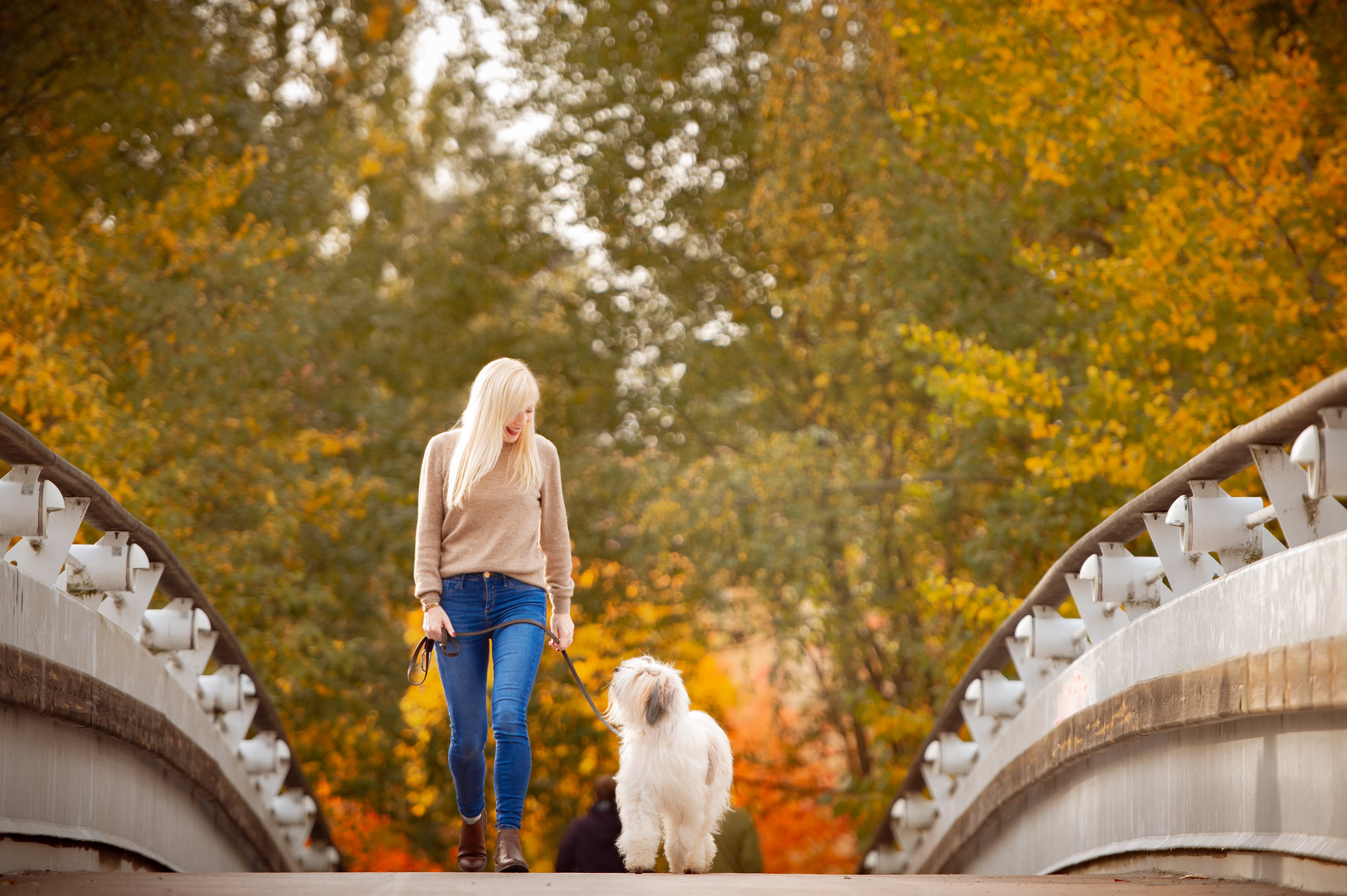 After the chaos comes the calm. "You want a treat, Riley?", I ask on repeat all the way across the bridge. Hopefully he loves me for more than just my treats.
And the award for most handsome dog goes to…
Let's get some shots of you on the yoga mat, she said. It'll be fun, she said. Am I doing it right? I don't know, but living here amongst all the fit, beautiful Swedes (honest to God, they're everywhere) is extremely intimidating. I have to at least pretend to be active.
"One more pose, Sandra, and we're done," she said. My arms are burning, but my poker face is strong.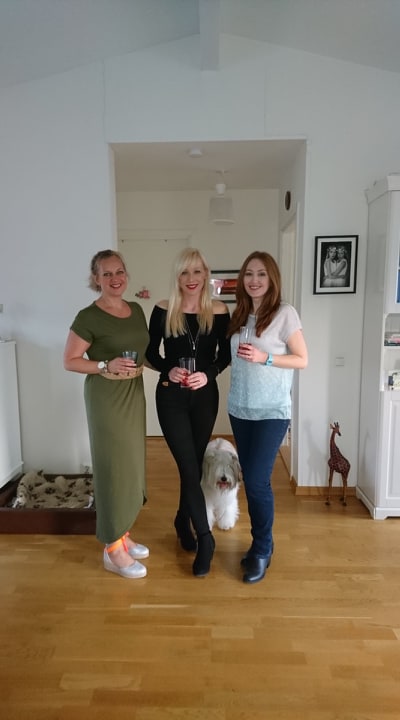 Aaaaand that's a wrap, folks. It always helps when a day of shooting ends with vodka ;)
If you enjoyed this little look behind the scenes, do please let me know. I'm very approachable, you know - case in point - everywhere I go I get asked for directions (ironic, considering I'm usually lost myself). So, if you're not my mother, do the decent thing and say hi or hej, I'm not fussy :)
Peace and love :)